the gallery has been loaded over at
wip
. lots of mini's were produced by the design team. i think we all got the fever. the nook and pantry line by basic grey had some really sweet papers to show for itself. also there were some jenni bowlin elements that always make a kit shine. and i just couln't help but sew on every project, i think. those comforting papers just said 'sew on me!". so i did.
tea time celebrated my daughters little birthday celebration with friends. i love how she took it upon herself to serve at her tea. it was super sweet. the pink with touches of red added to the sweetness of these photos. and i couldn't help but cluster many of the goodies from the nook and pantry stickers. that tea pot was so perfect.
thanks to my friend, (you know who you are, alexandra), the daily baking of bread has found it's way in my home again. i had to use that wonderful red paper from jillibean soup to bring focus to this daily tradition. bread is such a simple comfort. especially warm from the oven. those jenni bowlin journal cards and vintage coupon added to the nostalgic feeling of this layout. oh! and i soaked the white/brown trim in coffee to age it a bit...it was too white for the layout, but that little soak helped give me the look i needed.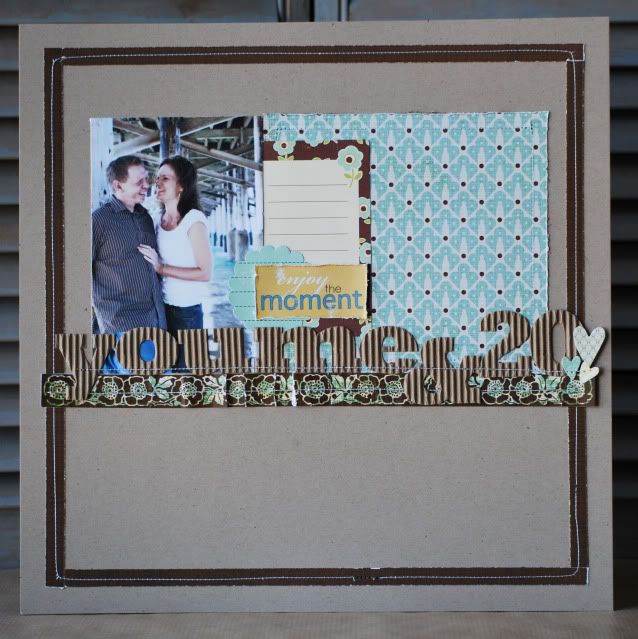 can't you just eat those corragated cardboard letters up? i love them. i had fun taking a border sticker and pleating the goodness out of it and then sewing it to the layout. this has alot of elements added from the whole kit. i love it when i can make lots of pieces work without overwhelming the layout. and thanks to my friends in orange county for capturing mr. pate and i at newport beach in a very fun moment. that's us at our best.
i used the jenni bowlin calendar cards and pulled a photo from each month of this past year. i forget to carry photos with me, but this mini is perfect for my bag and to always have these guys close at hand. thanks to
gigi kennedy
for inspiring this little book.
i just loved all these papers. especially that jillibean soup red. (i picked more of it up from my lss as it is so great!) and the jenni bowlin mini letters will be getting more of a work out on future projects.
thanks, trish, for such a fun kit this month. they are still
available
, i encourage you to go get ya one!