how to add glitter touches to an easy banner
Yesterday here on the blog
I shared a Valentine vignette that included the Heidi Swapp Lightbox as the focus of a seasonal decor feature. This diy project included a Minc Glittered Stencil Heart Banner.
I had the idea in my head, and as I crafted the project it was actually very easy. And the banner turned out just as I had hoped. This is not always the way of it when I get a creative idea. But luckily this is just how this Valentine decor piece turned out. And I want to share the how-to today.
You will need a few supplies for this project:
You've seen this technique used here on my blog with other mediums and surfaces and for other seasons. This time I chose to use that Glitter Sheet to add color and texture to the vellum heart cut outs.
First thing to do is cut out a heart shape from vellum. This would also work on paper. I chose vellum for it's ethereal feel to be a soft backdrop to my Valentine Vignette.
Once you have hearts cut out, use the Scrapbook . com Heart Stencil to layer in the Reactive Screen Ink. This works like a texture paste. Please note, allow this Ink to dry very well. After I spread the Ink through the Stencil, I turned on the Minc Machine, set the vellum heart on top of the machine, and allowed the Ink to dry super well with the heat of the Minc Machine.
After the Ink was allowed to dry completely, the Pink Glitter Sheet was trimmed down to fit and cover the heart, then I layered over the vellum heart, and ran through the Minc Machine as per directions.
For a very similar technique as I am showing here, you can refer to
THIS
video for a visual tutorial.
This is really a super easy technique. It's also beautiful. These vellum hearts all by themselves would make beautiful embellishment elements on a paper project, tag, or card. Whatever you can hang from a wall, you can place on paper too. But I know you already know that.
To finish, two holes were punched at the top of the hearts. Then I strung them all with baker's twine. I love the contrast of the trendy black and white striping against the softness of the vellum and little glitter hearts.
Place behind a Lightbox, use for a party, decorate a wall. Anywhere you can think to use vellum glittered heart banners will be beautiful, to be sure.
RESOURCES: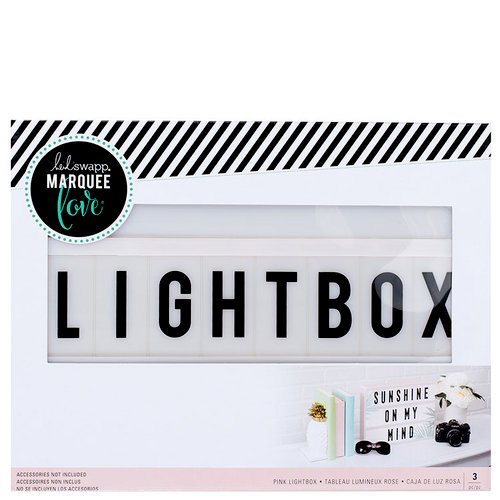 Heidi Swapp - LightBox Collection - Lightbox - Pink
Scrapbook.com